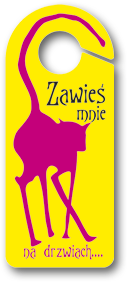 Offset printing on Heidelberg Speedmaster SM52 Digital Offset Press.
Double sided printing, full colour CMYK.
Printing on 350 g/m2 double side coated board
Printed piece dimensions marked out by a rectangle equal to 96 x 232. Double-side, CMYK full colour (unlimited number of colours) printing. The door hanger template has been designed with its universal application (flyers, hotel door hangers) and user's convenience in mind. On one side, there is a cut enabling the hanger to be hung, and the diameter of its hole (38 mm) has been designed so that it can be hung on a door handle or a door knob.