Product Description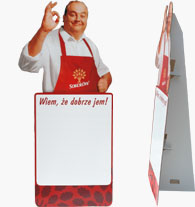 An advertising stand that is usually shaped like a person or the advertised product. It is designed to be used indoors (in offices, stores, exhibition halls) as an effective means of conveying the advertising message to passers-by. It is made of 5 mm two-layer corrugated cardboard, coated with a self-adhesive film, with print created using large-format press. Maximum full bleed size:
– 1110 mm x 1710 mm including bleed and register marks for shipped printouts
– 1190 mm x 1790 mm for printouts picked up in person
Every stand is delivered with a standard support (leg) that keeps the stand upright. Additional leaflet pocket may be designed, provided that it fits the above mentioned size together with the stand artwork.