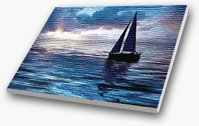 Printing of photos/graphics on canvas or PVC board. Photos/graphics are printed on stretched 220g/m² Canvas* or on 3mm PVC boards.

Canvas/PVC boards' sizes: 30 x 40 cm, 45 x 60cm, 60 x 80 cm and 75 x 100 cm. Printing on HP Latex 360.



This technology ensures image colour stability for years. Images on canvas have printed side edges. Ready-made wooden frames in two colours, natural wood and teak, are available with our canvas stretchers and PVC boards. Canvas stretchers and wooden frames are provided with hangers; images on PVC must be hung by your own means.



*

canvas stretcher - 19x35mm wood stretcher bars, polished, same as used by painters to stretch canvas. 60 x 80 cm and 75 x 100 cm canvas stretcher have crosspieces to guarantee their proper rigidity.